Podcast: Play in new window | Download
April Leadership Book Club Members: Sarah Barksdale, Barbara Carr, Wendy Rettenmeier, Robin Lindbeck
This Week:
This week we finish our discussion with pages 109-181 of Accelerate: Building Strategic Agility for a Faster-Moving World by John Kotter.
View the reading guide for Accelerate.
Next Week: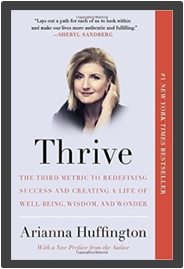 Next week we start our reading with pages 1-114 of Thrive: The Third Metric to Redefining Success and Creating A Life of Well-Being, Wisdom, and Wonder by Arianna Huffington
Available in paperback, hardcover, Kindle or Audible.com.
View the reading guide for Thrive.
View the upcoming book list here.
NOTE:

Book links on this webpage are affiliate links. That means if you go through these links to purchase these books we get a small portion of the sales to help support  the production of this podcast even though the cost of the book is the same to you. Thank you for your support!
We love to hear your feedback on the book or the podcast! Leave a comment on the blog or send us an email!  Subscribe to this podcast via iTunes or RSS.